10oct7:00 pm8:00 pmMuslims in European Citizenry: Distuinghsed Lecture by Prof. Sindre Bangstad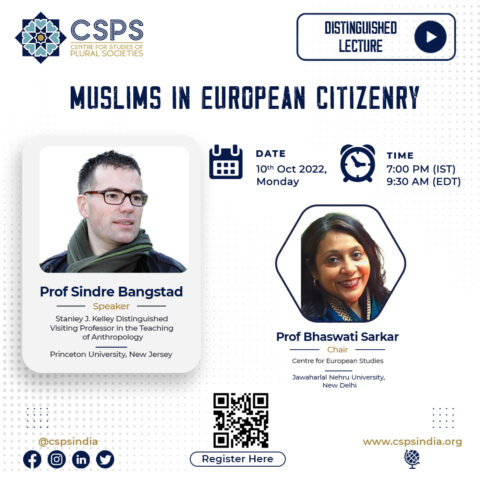 Event Details

How does it feel to be a problem? the great US sociologist and civil rights activist W.E.B. Du Bois (1868-1963) famously asked in The Souls of Black Folk (1903). According to historians of racism, the first demonstrable iteration of racism in Europe occurred in the context of the Catholic Reconquista of the Iberian Peninsula in the 13th century, and involved the targeting of Muslim and Jewish moriscos and conversos who under threat of torture or expulsion had converted to Catholicism in the course of the Catholic reconquest of the Almohavid empire of al-Andalus. This case demonstrates that racism is historically antecedent to the concept of race, and indeed need not presuppose a concept of race at all. Fast-tracking to the present era, Muslims in Europe have to a large extent become a racialized minority, and widely cast as a threat to European liberal ideas, norms and values. European surveys have for a long time demonstrated that Muslims in various European countries experience high and sustained levels of discrimination in various fields, as well as racism and hate crimes. Taking his own research into the experiences of Muslims in Norway as an entry point, in this invited lecture, Prof Bangstad will explore the most prevalent rhetorical tropes pertaining to Islamophobia in Norway and how these are premised on a transnational flow of Islamophobia after 9/11 2001, as well as how Muslims in Norway experience Islamophobia. The lecture will also present findings about Muslim counter-strategies and mobilizations against Islamophobia.

The discussion will be held on 10th October, Monday at 7:00 PM IST/9:30 AM EDT. Register

About Speaker
Prof. Sindre Bangstad is a Norwegian-born anthropologist, and the incoming Stanley Kelley Jr. Distinguished Visiting Professor in the Teaching of Anthropology at Princeton University, New Jersey, US. He holds a cand.polit. degree from the University of Bergen in Norway, and a PhD from Radboud University in Nijmegen, The Netherlands. Bangstad has undertaken ethnographic fieldwork among Muslims in Cape Town, South Africa and among Muslim youth in Oslo, Norway. He is the author of nine books and edited volumes in English and Norwegian, including the 2014 monograph Anders Breivik and the Rise of Islamophobia (Zed Books/Bloomsbury). Bangstad was the initiator and organizer of a series in public anthropology at the Houses of Literature in Oslo and Bergen which from 2010 to 2020 brought leading international anthropologists to Norway. He was awarded the 2019 Anthropology in the Media Award (AIME) from the American Anthropological Association (AAA) in recognition of his work in disseminating anthropological knowledge and insight through the public media. Bangstad was a 2017 Anthropology News columnist.
As an anthropologist, Bangstad has published extensively in a wide range of public media, including The Guardian UK, Boston Review, al-Jazeera English, Africa Is A Country, New Frame and the SSRC's The Immanent Frame. Bangstad has been a Research Professor at KIFO (Institute For Church, Religion and Worldview Research) in Oslo, Norway, since 2019, and an Associate Researcher at Plattform/Arkivet in Kristiansand, Norway, since 2021. Bangstad served as a board member of the Norwegian Center Against Racism (ARS) in Norway between 2015 and 2020, and was a member of the Theory from the Margins Research Network from 2020 to 2022. In his work, Bangstad has sought to advance substantial diversity in academia by introducing the work of black and minority scholars and scholars from the Global South in Norwegian academia and publishing. He has given invited lectures at Columbia University, UConn, the Institute For Advanced Studies (IAS) at Princeton and the University of Edinburgh.  Bangstad's research interests include Islam and Muslims, secularism, hate speech, free speech, racism and the far- right.
About Chair
Prof. Bhaswati Sarkar is a Professor at the Centre for European Studies, School of International Studies, Jawaharlal Nehru University, New Delhi, India. She graduated in Political Science from Presidency College, Kolkata and did her Masters in Political Science from the Centre for Political Studies, School of Social Sciences, Jawaharlal Nehru University. For her Ph.D she worked on the Hungarian Minorities in Eastern Europe and continues to be interested in themes of identity and minority rights. Her research interests are ethnicity, nation, nationalism, democracy, democratic transition and consolidation, citizenship, immigration, integration, multiculturalism, minority rights, secularism and persistence of religion, European integration and European identity. She looks at Europe focusing particularly on Central and Eastern Europe and the Nordics. She also keenly follows political developments in Asia particularly related to Indian foreign policy. Education and skill development are her other areas of interest.
Prof. Sarkar has authored a book on Balancing the Nation-State in Eastern Europe: The Hungarian Experience. Her edited books include: Amidst Turbulence and Hope: Transition in Russia and Eastern Europe, The Hungarian Minorities in Eastern Europe: Issues and Concerns. She has a number of publications to her credit and regularly participates in national and international conferences.
Time

(Monday) 7:00 pm - 8:00 pm