21feb6:30 pm7:45 pmBook Discussion on Secularism Confronts Islamism: Divergent Paths of Transitional Negotiations in Egypt and Tunisia
Event Details

The book discussion will be conducted on 21 February 2022 at 6:30 PM IST on zoom. Register

About Author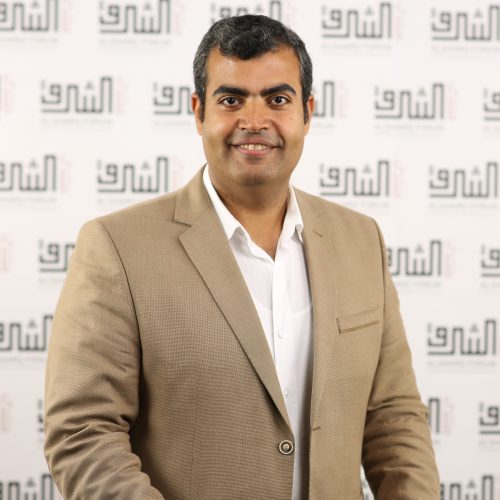 Dr Mohammad Affan is the acting director of Al Sharq Strategic Research, the coordinator of Al Sharq Program on Political Islam, and the managing director of Al Sharq Academia. A medical doctor by training, he holds a Ph.D. from the Institute of Arab and Islamic Studies, University of Exeter. Also, he obtained his MA degree in Comparative Politics at the American University of Cairo. His thesis was published in Arabic as a book titled: Wahhabism and the Brotherhood: The Conflict on the Concept of the State and the Legitimacy of Power. In addition, he holds a post-graduate diploma in Civil Society and Human Rights from Cairo University, a diploma in Political Research and Studies from the Institute of Arab Research and Studies in Cairo, and a diploma in Islamic Studies from The Higher Institute for Islamic Studies, Cairo. His research interests include Islamism and democratization in MENA region.
About Chair
Dr Omair Anas is the Director of Centre for Studies of Plural Societies. He was earlier associated as Research Fellow at the Indian Council of World Affairs, New Delhi, a think tank of India's Ministry of External Affairs. Dr. Anas received his Phd from Centre for West Asian Studies, Jawaharlal Nehru University, New Delhi in 2015. He completed his Mphil from the same centre. He has published 30 papers in international journals and edited volumes and more than 200 articles in national and international media on international affairs.
About Book
This book provides in-depth examination of the recent confrontation between Islamists and secularists in Egypt and Tunisia. Presenting a new approach to understand Islamism and secularism, the research addresses the variables that could affect the outcome of transitional negotiations.
The secularist-Islamist conflict proved to be a major hindrance for democratisation and a main source of political instability in the Middle East. During the Arab Spring, disputes between both political trends sparked shortly after getting rid of their common enemy: the autocratic rulers. First, they disagreed on how to lead the transitional period. Then, polarisation grew deeper with the political competition in the parliamentary and presidential elections and the ideological disagreements during the drafting of the constitution. Eventually, this conflict put Tunisia at a verge of civil strife in the summer of 2013 and led to collapse of the transitional process in Egypt after the military coup.
Examining the causes of the conflict between the secularists and the Islamists during the transitional period, the work provides new insights from the Arab Spring experience. Updating the transition literature, the book is a key resource to academics and students interested in democratization theory and Middle East politics.
Time

(Monday) 6:30 pm - 7:45 pm