03jul4:00 pm5:00 pmBook Discussion on Born a Muslim: Some Truths About Islam in India by Ghazala Wahab
Event Details

The book discussion will be conducted on 3 July, 2022 at 4 PM IST. Register

About Book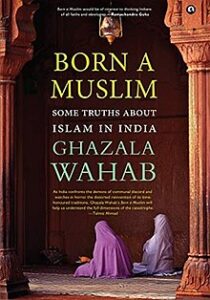 Born a Muslim: Some Truths about Islam in India is a non-fiction book by Indian journalist Ghazala Wahab. The book presents a case of Muslims in India to those who wonder about them. It talks about the structural discrimination faced by the Muslims and prejudices that persist in India. The book received the Tata Literature Live Book of the Year award in 2021.
The author takes a clear-eyed look at every aspect of Islam in India today. She examines the factors that have stalled the socio-economic and intellectual growth of Indian Muslims and attributes both internal factors?. Such as a disproportionate reliance on the ulema as well as external ones that have contributed to the backwardness of the community. She shows at length, and with great empathy and understanding, what it is like to live as a Muslim in India and offers suggestions on how their lot might be improved. Weaving together personal memoir, history, reportage, scholarship, and interviews with a wide variety of people, the author highlights how an apathetic and sometimes hostile government attitude and prejudice at all levels of society have contributed to Muslim vulnerability and insecurity. Born a Muslim goes beyond stereotypes and news headlines to present an extraordinarily compelling and illuminating portrait of one of the largest and most diverse communities in India.
About Author
Ghazala Wahab is executive editor, FORCE, where she writes on homeland security, terrorism, Jammu and Kashmir, left-wing extremism and religious extremism, and contributes a column, First Person. She contributed a chapter on the changing profile of terrorism in Jammu and Kashmir in the book Operation Parakram: The War Unfinished. A career journalist, Ghazala has worked with The Telegraph and Asian Age.
About Chair
Prof. Mohammad Sajjad is Professor at the Centre of Advanced Study in History, Aligarh Muslim University (AMU). He has published two books: Muslim Politics in Bihar: Changing Contours (Routledge, 2014); Contesting Colonialism and Separatism: Muslims of Muzaffarpur since 1857 (Primus, 2014).
Prof. Sajjad published more than 24 research papers. He is regular columnist for The Hindu, Economic Times, The Wire, NewsClick. In, Frontline, Hindustan Times, Indian Express.
Time

(Sunday) 4:00 pm - 5:00 pm